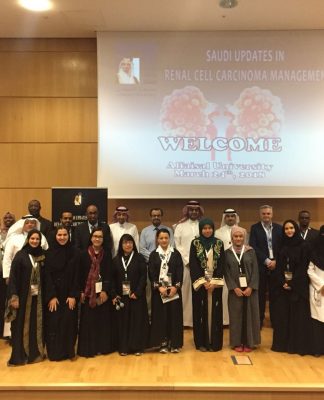 Alfaisal University conducted the "Saudi Updates in Renal Cell Carcinoma Management", which was held on 24 March 2018, at Alfaisal University, Riyadh, KSA.
It is a comprehensive one-day event covering all aspects of Renal Cell Carcinoma including In-depth training for small group of health care professionals with emphasis on standard patient care based on evidence and practical case scenarios. The event aims to review the latest advances in the management of Renal Cell Carcinoma, and to discuss the management of different cases.
Opening remarks and event introduction was introduced by Dr. Amin Eltigani, Consultant – Medical Oncology, Oncology Center, King Abdulaziz Medical City, Ministry of National Guard, Riyadh, KSA.
Target Audience involved multidisciplinary health care professionals with interest in renal cancers, including in-training physicians such as residents and fellows where up to 60 health care professionals have participated. Delegates got their certificates from Alfaisal University, and this event was accredited with 8 CME Hours from the Saudi Commission for Health Specialties.
Course Director:
Dr. Amin El Tigani, Consultant, Adult Medical Oncology, Department of Oncology, MNGA, Riyadh, KSA.
International Faculty:
Prof. Andrew Protheroe: Course Director
Professor in Uro-oncology and Consultant in Medical Oncology, Co-Director | CRN: Thames Valley and South Midlands | Clinical Research Network, University of Oxford Department of Oncology, Oxford, UK.
Local Faculty:
Dr. Essam Murshid, Dr. Amin Eltigani, Dr. Noura Aloudah, Dr. Khalid Alothman, Dr. Fahad Ibnshamsah
The post Saudi Updates in Renal Cell Carcinoma Management appeared first on Alfaisal News.
المصدر